Mantra Esplanade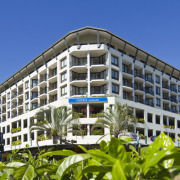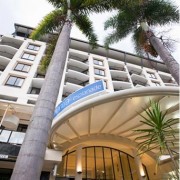 Mantra Esplanade
Esplanade opposite Lagoons & Marina!
Excellent location
Stunning views
FROM enquire PER NIGHT
---
Inc. all levies & taxes

Mantra Esplanade Info
Mantra Esplanade
is a self rated 4 star property situated on the famous Cairns Esplanade on the site of the historic Cairns Court House, directly opposite the famous Cairns swimming lagoon, Pier Shopping Centre and Marlin Marina. This excellent location is within the Cairns City centre with easy access to restaurants, shopping, the Reef Casino and Cairns Convention Centre.
Room Features:
Air-conditioning
Balcony
Cable TV with in-room movies
Tea & coffee making facilities
Disabled rooms available
Bath & shower
In-room safe (fees apply)
Internet access
Iron and ironing board
Weekly services will only be done for stays of 8 or more nights and will be done mid stay – the following is included:
(a) Fresh bathroom towels
(b) Remove rubbish from kitchen and bathroom
(c) Make Bed with fresh linen
(d) Replace bathroom and kitchen amenities
(e) Light kitchen clean
(f) Light bathroom clean
(g) Vacuum and mop floor as required
(h) Dishes cleaned/dishwasher loaded
Wheelchair accessible rooms are available
Additionally Apartments Feature:
Fully equipped kitchen
Laundry facilities
Hotel Room City View / Ocean View - Available with 1 king or 2 singles.
One Bedroom City View / Ocean View - Available with 1 king or 2 singles. Features full kitchen and laundry facilities.
Two Bedroom City View / Ocean View - Available with 2 kings or 1 king and 2 singles or 4 singles + 1 sofa bed. Features full kitchen and laundry facilities. Please note two bedroom apartments are Dual Key (a 2 bedroom comprising of a 1 bedroom apartment and hotel room, separated by a foyer, that share a common entrance/door).
Property Features:
Ocean or pool/city views
Restaurants & bars on site and in the vicinity
Swimming pool, spa (not heated), sauna
Exercise room
BBQ area
Tour desk
24 hour reception
Free Security car parking
High-speed internet hot spot in the Lobby of the resort for wireless internet users.
The Courthouse Hotel is within the hotels grounds and has been restored complete with the jury bench and witness stand. As well as some local history you can experience a typical Aussie Pub environment and enjoy traditional pub meals. There is also a big screen in the front garden where you can enjoy the balmy tropical weather while having a drink and watching a movie or music videos.
Mantra Esplanade Locality:
Cairns City / CBD – 1 min walk
Cairns Esplanade – on esplanade
Cairns Airport - 10 min drive
Great Barrier Reef Departure Point – 2 min walk
Nearest grocery store (Woolworths) – 3 min walk
Cairns Central – 15 min walk
DFO – 10 min drive
Skyrail Caravonica – 15 min drive
Freshwater Station – 15 min drive
Trinity Beach – 25 min drive
Palm Cove – 30 min drive
Port Douglas – 1 hour drive
Heading out to the Great Barrier Reef and Islands for the day is easy with the main access point for all Reef trips, the Reef Fleet Terminal within a 3 minute walk of the Mantra Esplanade. All tours to other natural attractions such as the Daintree Rainforest, Crater Lakes and Waterfalls include return transfers from the Mantra Esplanade. Adventure activities including half and full day White Water Rafting, Sky Diving, Bungy and Sea Kayaking also include transfers from here. For tour packages check out the special rates on travstar.com.
GOOD NEWS! All payments made to Travstar do not incur a credit card surcharge.
Guest Reviews
Good location
Posted By Ian Thomas
Everything was a breeze.
Loved staying at Mantra Esplanade. Very close to everything. Hardly needed car. Bed was very comfortable. Everything was a breeze.
Posted By Rodney Hall
The apartment itself was excellent
The apartment itself was excellent. Unfortunately the noise from the hotel behind Mantra was annoying at night. Doors and windows need to be double glazed.

Posted By Neil Rogers
Staff were pleasant and helpful
We were upgraded to beach view, staff were pleasant and helpful. We would return when next in Cairns
Posted By Kerry Seymour
Excellent location.
Lovely hotel - excellent location.
Posted By Nicola Crowther
Very enjoyable holiday
Friendly stafe, nice clean unit, very comfortable. Thank you.
Posted By Phyllis Miriklis
The hotel was well placed & close to everything
We had a great time . The hotel was well placed & close to everything although maybe a little noisy during the night with drunk party goers yahooing etc down in the street but apart from that it was really good.
Posted By Jo Parkinson
Great location - perfect views
Great location - perfect views. Rooms very spacious and really nice complimentary toiletries. Right across the road is the Lagoon - fantastic for kids as it is like being at a real beach - even lifeguard patrolled! Expensive restaurants but very good quality food. A favourite was Raw Prawn.
Posted By Dean & Lynda Crouch
Service by staff was outstanding
The location of the Esplanade Mantra was so excellent being close to all facilities in the CBD. Service by reservation staff was outstanding. I am the mother to Daymon and did the booking. I asked the reception staff if I could enter the room and place some bottles of champayne in the fridge to chill as there arrival was due in a 7pm - Craig was very abliging - Thank you Craig it was a excellent surprise for my son and partner
Posted By Daymon Whitehead
Awesome service and top quality
Awesome service and top quality
Posted By Louise Steele
it really is the little things that make the differnce
It was very nice to get good quality bathroom products and a shower cap yea!, and a well equiped kitchen, it really is the little things that make the differnce
Posted By Sharon Cooke
we will be comming back
we had a great time it is a really great place and we would have no hesitation to recommend it to others. the facilities were great and the rooms were very comfortablea and clean and the staff were friendly and very helpful with anything we asked. we will be comming back
Posted By Lynette Strong
centrally located
Mantra Esplande was centrally located and has 24hr reception facilities. We were very happy with our stay.
Posted By Vanessa Harvey
Need Help With Your Booking?
Our Cairns Office is open again in 5 hours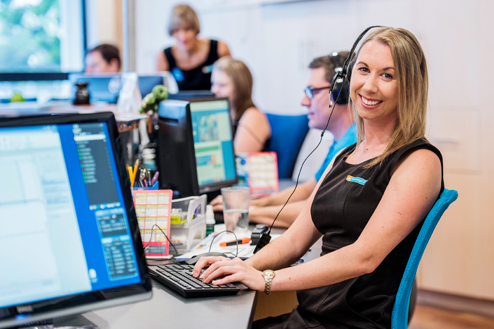 About Travstar Booking Requests
There are some things a computer can't do.
We love helping people plan their holidays and we want to make sure we get it right.
Some holiday packages can be quite complicated with multiple tours and accommodation, pick-up times and extras.
That's why every booking made through a Travstar Website is checked by our local consultants.
It takes a little bit longer to get your tickets but we want to make sure everything is going to run smoothly for you.
How long wil it take to get my tickets?
Our team are alerted to new booking requests as they come in. During office hours you can expect to have your tickets within an hour or two.
After office hours your tickets may take up to 12 hours to arrive.