Beautiful Bedarra Island House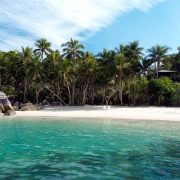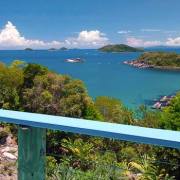 Beautiful Bedarra Island House
Two bedroom pole home! 360 degree views!
Private & Peaceful Pole Home
Two Bedroom Fully Equipped
FROM $443 PER NIGHT
---
Inc. all levies & taxes

Beautiful Bedarra Island House Info
Bedarra Island House: If you are looking to unwind and escape the pressures of daily life then the peace, tranquility and glorious seclusion of Bedarra Island is the perfect place. This peaceful pole home has 360 degree panoramic views and is totally private and secluded. Bedarra Island House has been a place for couples to indulge themselves and families to enjoy "quality time" together. Treat yourself to a unique, exclusive, tropical Queensland Island holiday
This stunning pole home is situated atop a small hill. The back deck has views over Dunk Island and mainland Australia. The front deck has views over the Family Group of Islands south to Hinchinbrook Island and the endless horizon!

Amenities Include:
Queen bedroom
Double bedroom
Mezzanine floor, reading lounge
Kitchen: gas oven and solar fridge
Bathroom
Outdoor shower with views over the Family Group of islands
BBQ
Three fantastic decks
Linen supplied
TV
DVD / Stereo with iPod connection
There are two bedrooms and a mezzanine level, fully equipped kitchen with gas appliances, upstairs bathroom with shower and outdoor shower (no worries about neighbours), lounge, dining, front, back and lower decks.
There is a television, radio and CD player. Linen is also supplied. As the house is solar powered, you cannot use hairdryers or irons. Water conservation is essential. There are no shops on the island, so all provisions must be brought with you.
The house is suitable for up to four persons.
Activities: It's up to you..
Walk along the rocks that line the edge of the secluded beaches.
Bring your snorkelling gear and discover the tropical sea life that reside in these unspoilt waters.
Take an easy climb to the top of the rocky headland and look out for dolphins cruising through the Family Islands.
Walk to the lookout where the horizon seems endless.
Paddle in a kayak around the bay or around the island. There are two stable kayaks provided free of charge.
The warm and protected waters provide pleasant year round swimming.
View the abundant birdlife that inhabit this tropical island.
Lie back with a book on any of the three decks. Your background can be the Hinchinbrook Channel, the mainland, Dunk Island or the ships sailing by... What a Choice!!
You can fish, either from the beach or rocks or for those that want a fishing experience you can charter a boat to take you to the big fish!
Boats are also available for charter to visit other nearby National Park Islands for picnics, snorkelling and diving.
Location:
Bedarra Island is located on the East coast of Australia between Cairns and Townsville. It is 4 kilometres off the coast of Mission Beach. It is part of the Family Group of islands which make up part of the Great Barrier Reef.
Getting Here:
If you fly into or are coming from Cairns there are a few ways to the island:-
Greyhound Bus and Premier Bus Service both run bus services from Cairns to Mission Beach return. From Mission Beach you will transfer to a private charter boat for your trip to Bedarra Island (approx 40 minutes)Fly from Cairns to Dunk Island with Hinterland Aviation or bus from Cairns to Mission Beach.

If required, we will organise the private boat charter on your behalf once your travel arrangements are known. There are two companies that can provide this service. Mission Beach Charters and Mission Beach Water Taxi. The cost of this service is paid by you direct to your chosen company.

Important information about Catering:
There are no shops on this tropical paradise! All provisions must be taken with you. These can be ordered through our local suppliers or sourced in Cairns. We can put you in touch with our suppliers to order yourself or we can organise for you for a service fee of 5% of the account. All your supplies will be coordinated with your arrival day and your provisions will go on the boat with you. Our supplier prefer at least two weeks notice.

What to Bring: The less you bring the better. Keep it simple, something for the beach and something to relax in after the beach, and some casual shoes to walk the paths in. You will need to bring all provisions with you.

Birdlife on the island depends on the season:
We have a few permanent residents such as the Noisy Pitta, orange footed scrub fowl, yellow bellied sunbird, oyster catchers, white throated night jar and the beautiful family of white bellied sea eagles that fly by every day.

Beauty and Peace:
There is a caretakers residence and there are six other houses on the island. All enjoy the privacy of the island and we request that you do not enter the other properties unless invited. There is also a resort on the island however this is also private.
Bedarra Island House is a sensational and magnificent holiday destination where you can escape the pressures of daily life and completely unwind.
Beautiful Bedarra Island House Rates
Need Help With Your Booking?
Our Cairns Office is open again in 4 hours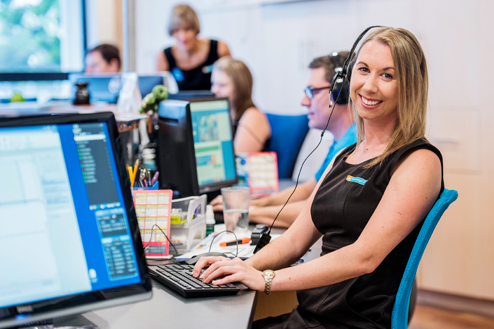 About Travstar Booking Requests
There are some things a computer can't do.
We love helping people plan their holidays and we want to make sure we get it right.
Some holiday packages can be quite complicated with multiple tours and accommodation, pick-up times and extras.
That's why every booking made through a Travstar Website is checked by our local consultants.
It takes a little bit longer to get your tickets but we want to make sure everything is going to run smoothly for you.
How long wil it take to get my tickets?
Our team are alerted to new booking requests as they come in. During office hours you can expect to have your tickets within an hour or two.
After office hours your tickets may take up to 12 hours to arrive.