Cooktown Drive-Fly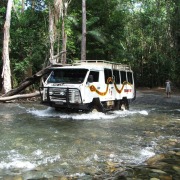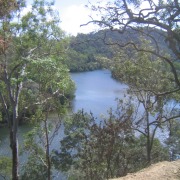 Cooktown Drive-Fly
Cooktown The Last Frontier
Bloomfield track & Cooktown
45 Minute Scenic Flight
FROM $530 PER PERSON
---
Inc. all levies & taxes

Cooktown Drive-Fly Info
1 DAY COOKTOWN DRIVE - FLY ADVENTURE

Adventure North will take you on a journey through some of the most rugged terrain in the country. This journey will take you crossing rivers infested with estuarine crocodiles, climbing mountain ranges in the 4WD, with views of the Great Barrier Reef. Enjoy a 45 minute scenic flight back to Cairns witnessing stunning views of the reef and mountain ranges.
Highlights & Inclusions
4WD air-conditioned vehicle
Friendly knowledgeable driver-guide
World Heritage listed Daintree National Park
Cable ferry across the Daintree River
Morning Tea
4WD only Bloomfield Track
Lunch at historical and famous 'Lions Den Pub'
Black Mountains
Free time in Cooktown
45 minute flight from Cooktown
Itinerary:

You will be collected from your accommodation by Adventure North's air-conditioned four-wheel drive (4WD) vehicle. Travel north along the Captain Cook Highway, one of Australia's most scenic coastal drives towards the World Heritage Listed Daintree National Park, crossing the mighty Daintree River by cable ferry. You will journey through this spectacular wet tropical rainforest and the oldest continuously growing rainforest in the world, renowned for its amazing diversity of plant and animal life.
Your experienced guide will enlighten your journey with incredible stories and history as you continue on the 4WD only Bloomfield Track. This will take you through some of the most incredible scenery in the country, crossing rivers and mountain ranges. Lunch is at the famous Lion's Den Hotel (est.. 1875), one of North Queensland's oldest running bush pubs.

After lunch continue to the unique geological oddity, which is Black Mountain, surrounded in mystery and spoken of in ancient Aboriginal legend. Arriving in Cooktown you will have a 360 degree views from Grassy Hill of the Endeavour River, Coral Sea and Cooktown. Enjoy up to 2 hours to explore historical Cooktown.
At your scheduled time depart Cooktown onboard Hinterland Aviation Airlines for your 45 minute flight. Witness beautiful views of the coastline, reef and mountain ranges as you journey back to Cairns.

Transfer back to your accommodation from the airport is not included at the end of the day.
Activities in Cooktown:
Visit the World Class James Cook Museum (closes at 4.00pm, own expense)

Stroll along the shores of the Endeavour River where Captain Cook and his crew stayed for 47 days. Cooktown claims the distinction of having the first settlement in Australia.

Take one of the walking trails surrounding Cooktown's Heritage and scenic rim with most attractions within easy walking distance. The main street has a charm and historical atmosphere, which still prevails. You can experience the unspoilt beauty of the area, which remains much the same as Cook knew it in 1770.
Departs - Monday, Tuesday, Thursday, Friday
Cairns 7:00am - 6:50pm

Northern Beaches (Trinity Beach, Palm Cove) 7:30am - 6:50pm

Port Douglas 8:30am - 8pm
Please note:
Flight departs Cooktown at 6.05pm -Arrive Cairns 6.55pm at General Aviation Terminal, Hangar 7, Tom McDonald Dr, Cairns
During winter months May – August flight departs at sunset
Transfers not included back to accommodation
Port Douglas transfer is seat in coach with Sunpalm Transport.
GREAT NEWS!
All payments made to Travstar do not incur a credit card surcharge.