Jungle Canopy Surfing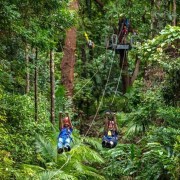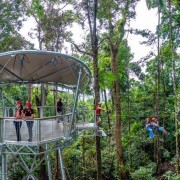 Jungle Canopy Surfing
Glide through the rainforest
Rainforest adventure for all ages
Fly through the trees on zip lines
FROM $109 PER PERSON
---
Inc. all levies & taxes

Jungle Canopy Surfing Info
JUNGLE SURFING:

Jungle Surfing takes you into the beating heart of the Daintree Rainforest on a guided zipline experience through five tree platforms and the world's first Human Hamster Wheel cable lift.

The platforms range in height from 7-16m above the ground and showcase every level of the rainforest canopy. The ziplines range from 37-95m and are travelled in pairs except for one solo flight - upside down if you dare! - across a rainforest creek. The final span to the ground features side-by-side racing ziplines with speeds over 45km/h!

Expert guides accompany you every step of the way controlling all equipment and flight so there's no experience or tuition necessary. And throughout the tour, the guides tell the story of the world's oldest rainforest.

Jungle Surfing tours depart Cape Tribulation up to 12 times daily, operate in all weathers and are suitable for all ages from 3 to 103.

Inclusions:

• Hotel transfers within Cape Tribulation
• 1-hour minimum up in the trees (maximum 2 hours tour)
• All instruction and equipment

Your Experience:

• On arrival at the harnessing centre, you'll meet your team of guides who'll be taking you surfing through the jungle. Each guest is fitted into a full body harness and helmet.

• A 350m walk through the forest leads to the Departure Lounge, where you'll be given a safety briefing before leaving the forest floor and are hoisted up to platform one by our very own Human Hamster Wheel Cable Lift.

• On each platform, a guide will greet you, connect you safely to the tree, and provide you with eco-talk before sending you on your way to the next platform.

• From Platform 1 – 4, you will travel in pairs a few metres apart. The guides completely control your gentle flight, leaving you free to take photographs or just take in the stunning views. Midway between Platforms 3 and 4, you'll stop briefly at the highest point of the tour, 23 metres above Mason Creek. If you're lucky and visit during the wet season, the creek will be a raging torrent of white water.

• From Platform 4 to 5, in a beautiful section of old-growth rainforest, you'll fly solo and fast back across the creek. Don't forget to give us your best Tarzan cry!

• Platform 5 to 6 is an opportunity for thrill seekers to try something different, and if you choose to do so, you can flip yourself upside down and watch the ground beneath you speed past.

• The final zipline on Platform 6 is your chance to have a race and go fast if you'd like. You're paired up on separate ziplines as the guides let you speed down to the bottom of the course.

• Then you have a short walk back to the harnessing centre where you'll be taken back to the Jungle Adventure Centre to view your photos and then on to your Cape Tribulation accommodation if you're staying in the local area.

• The tour itself takes around 2 hours from pick-up to drop off, and you'll spend around 1 hour up in the trees, with plenty of time on each platform to experience the rainforest environment.
Departures:
• Please let us know you're preferred tour time for Jungle Surfing:
7.50am, 9.10am, 9.50am, 11.10am, 1.50pm, 2.30pm, 3.50pm every day.
• 8.30am (seasonal), 10.30am (seasonal), 1.10pm (seasonal), 3.10pm (seasonal),
• Hotel transfers within Cape Tribulation included
• Self-drivers are required to meet at the Cape Tribulation Jungle Adventure Centre (formerly Snake House) Lot 2 Cape Tribulation Road. Free parking available. (3hrs self-drive, north of Cairns)
• Does not operate Christmas & New Year's Day
• Go Jungle Surfing offers transfers from Cairns & Port Douglas Click Here to view tour
• Back Country Bliss offers half day tours from Port Douglas Click Here to view tour

Jungle Surfing Restrictions:

• Max weight is 120kgs (260lbs or 18 stone 12lbs)
• Tour is not suitable for pregnant women
• All participants must complete a Medical Declaration & Waiver Release form which will be supplied when you check in. Children under 18 whose parent/guardian has failed to complete the form, will be refused entry to the tour and will not be eligible for a refund.
• Minimum age is three years old
• Max 13 people can participate in each tour
• Must be pre booked to avoid missing out

What to Bring/Wear:

• Camera
• Long Shorts or trousers - skirts are not suitable
• T-shirts or shirts with sleeves - no singlets or sleeveless tops
• Enclosed footwear
• Money for refreshments
• If it's raining you will get wet, so please bring a change of clothes for after the tour.
Getting to Cape Tribulation - self-drive:

From Cairns: - Allow 3 hours
From Port Douglas: - Allow 2 hours
From Mossman: - Allow 1.5 hours

During peak school holiday periods, it is advisable to allow an extra hour travel time.
Overnighting in Cape Tribulation? Why not combine Jungle Surfing with a night walk and watch the Rainforest come alive
• Jungle Surfing Session during the day
• 2 Hour night walk
• Transfers within Cape Tribulation
• Torch & Raincoat (if necessary)
• Minimum age is 8yrs
GREAT NEWS! All payments made to Travstar do not incur a credit card surcharge.