Xtreme Tully Rafting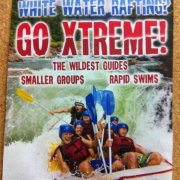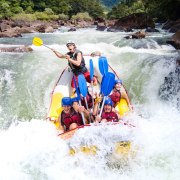 Xtreme Tully Rafting
Be first down the river!
Maximum 18 passengers
Raft Surfing, Rock Jumping!
FROM $229 PER PERSON
---
Inc. all levies & taxes

Xtreme Tully Rafting Info
XTREME RAFTING:

Xtreme Tully River Rafting is the ultimate rafting experience. Your guides will take you outside your personal comfort zone, to get the heart racing and your adrenalin pumping! All participants must be fluent in English and competent, confident swimmers.
What makes it Great?
Grade 3 & 4 guided White Water Rafting

Guaranteed small groups with less interruption

Highly experienced senior guides

More thrilling paths through the rapids

Cliff jumping, rapid swimming and raft surfing
Your day includes:
All accommodation transfers

BBQ lunch beside the river

All equipment and instruction

Approximately 5 hours of white water rafting

Cliff jumping, rapid swimming and raft surfing

All government levies
Daily Departures:
The Tully Gorge is 2 hours from Cairns

Departs Cairns & Northern Beaches 6.30am (returns approx 5.30pm)

Departs Mission Beach Daily 7.30am (returns 4.00pm)
What to Bring :
Lace-up shoes or sandals which wont fall off your feet
Your Day:

Xtreme Rafting operates on the Tully River and is specifically designed for those seeking small and intimate group sizes. The Upper Tully Gorge is regarded as the best section of commercial white water in Australia. Falling from high in the valley, this section boasts constant grade 3-4 rapids, which are moderate technical rapids with the need to hold on at times and definite continuous need to manoeuvre rafts.

Your day starts with comprehensive instructions on how to manoeuvre an inflatable raft through the water. Then you set off on your adventure experiencing the best this exceptional river has to offer. Travelling with senior river guides, negotiate your way down the river with a small flotilla of rafts. Xtreme is the first trip down the river giving you the Tully at its absolute best, and allowing you to marvel at the magic of the World Heritage Rainforest, which surrounds you on all sides. Xtreme also offers additional activities such as Rock Jumping, Raft Surfing and Rapid Swimming which you can choose to join in or not.

What to Wear:
Wear the same clothes you would wear to the beach as you will definitely get wet, board shorts are recommended for both guys and girls. Make sure you bring a towel and a set of dry clothes to change into after your rafting adventure. You will need to wear secure footwear which will not come off your foot while rafting such as running shoes or sandals with an ankle strap. If you don't have suitable footwear (or don't want yours to get wet) we have sandals for hire at the Tully Cafe which we stop at before we go rafting.
Self Driving:
Please meet at the El Arish Tavern - Turn right off highway in Ryrie St, to the end on the left in El Arish, no later than 8:30am in the morning.

IMPORTANT INFO:
Minimum age: 15 years (rafters aged 15-17 years must be accompanied by an adult)

Rafting is not suitable for anyone who is pregnant

All Xtreme rafters must be confident swimmers and have good English skills - Any participants that do not meet these conditions will be automatically placed on the main Tully tour on the day, and no refund of the difference will be available.
GREAT NEWS! All payments made to Travstar do not incur a credit card surcharge.