INSTANT BOOKING OPTIONS
ON REQUEST BOOKING OPTIONS
Cairns Aquarium.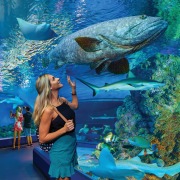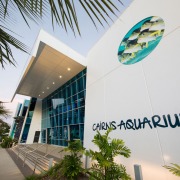 Cairns Aquarium.
Australia's Newest Aquarium
All Day Pass
15,000 aquatic animals
FROM enquire PER PERSON
---
Inc. all levies & taxes

Cairns Aquarium. Info
Cairns Aquarium is Australia's newest and most spectacular aquarium.
Follow the journey of a drop of rain as it descends from the mountain ranges down into rivers and streams, through the rainforest, across the mangroves, into the shallows of the reef and finally into the depths of the Coral Sea.
Travel through ten amazing North Queensland ecosystems with over 70 different habitats showcasing the stunning diversity of the species from two world heritage listed areas ? the wet tropics rainforest and the great barrier reef. Guests will have guaranteed interaction with the spectacular beauty of over 16,000 aquatic animals without the need to get wet or even leave the city!
Ticket Inclusions:
All day admission to Cairns Aquarium
10 Tropical North Queensland eco systems and 71 habitats
River Monsters, Denizens of the Deep, Life of Sharks & Rays and Curious & Coloured Presentations
Habitat Talks, Animal Feeds and Terrestrial & Marine Encounter Touch Tanks

Getting There:
The Cairns Aquarium is located in the very heart of Cairns, there are many ways of getting to the Aquarium: you can walk, bike, bus, or drive to the facility with ease. 5 Florence St Cairns, Queensland, Australia
On Foot:
Cairns Aquarium is within easy walking distance of most accommodation. We are one block from The Esplanade, two blocks from the Lagoon Pool and an easy 5 mins walk from the Cruise Terminal.
Driving & Parking:
The Cairns Aquarium is easily accessible by car however there is no onsite parking. Car parking is available in the surrounding streets, also hourly and daily fees may apply for metered parking.
Bus Drop off:
Tour and school buses can drop off passengers in front of The Cairns Aquarium on Florence Street. Please ask our Reservations Coordinator for details when making arrangements for your group.
Public Transport:
We have bus services on Lake and Abbott Street, right outside the Aquarium. The Cairns Aquarium is conveniently located in the heart of Cairns, next to Novotel Cairns Oasis Resort and opposite DoubleTree by Hilton.
Daily Talks And Presentations:
Enjoy daily talks and presentations provided by our very knowledgeable and entertaining AquaNuts - we call them that because they are crazy about all things aquatic and when you meet them you?ll see and hear that for yourselves!
River Monsters: 10.15am & 12:30pm
River Monsters Amphitheatre (Ground Floor)

Denizens of the Deep: 10:30am & 1:00pm
Deep Reef Amphitheatre (Level 1)

Life of Sharks & Rays: 11:00am & 1:30pm
Oceanarium (Ground Floor)

Curious & Coloured: 11:30am
Coral Sea Amphitheatre (Ground Floor)

Marine Touch Tank: 10:00am to 3:00pm
Marine Touch Pools (Level 1)
Cairns Turtle Hospital:
Tours of our Turtle Rehabilitation Centre operate daily at 11:30am & 12:30pm.
Get up close and personal to the sea turtles in our care on a 30 minute guided tour of our Turtle Rehabilitation Centre.
Learn about the dangers that sea turtles face, and how we rescue, treat, release and track these precious animals. General Admission is included in your ticket. See 16,000 aquatic animals and habitats endemic to Tropical North Queensland. Learn about the Wet Tropics Rainforest and the Great Barrier Reef.
Marine Life Encounter:
The Ultimate Way to Experience the Cairns Aquarium.

You will enjoy a visit through the Aquarium and then meet with your Ecologist Guide , who will personally escort you on a Back of House Tour and into the Turtle Hospital.
They will introduce you to the inner workings of the aquarium, the amazing animals in our care and the conservation, breeding and research programs we undertake. Be guided through the Cairns Turtle Hospital and experience the thrill of feeding the gentle Cownose Rays straight from your hand!
Inclusions:
General Admission Entry
Ecologist Guided Back of House and Turtle Hospital Tour
River Monsters Scatter Feed
Exclusive Hand Feeding of Cownose Rays
Children must be 12+ years to hand rays (souvenir gift will be substituted for children under 12)
Available 11:30am to 2:30pm Monday to Saturday
Optional Add On:
Enjoy Cairns Aquarium followed by a delicious 2-course lunch including a complimentary beer, wine or non-alcoholic drink while enjoying the spectacular views of the 14m marine tank in Dundee?s Restaurant.
Aquarium by Twilight:
Explore the Aquarium by Twilight!

As the sun sets on Tropical North Queensland?s mountain ranges, steamy rainforests and shallow reef lagoons stir with life. Reptiles, amphibians, insects, and nocturnal fish sense the onset of dusk and emerge from their daytime lairs. Brightly coloured reef fish seek shelter in coral caves as predatory nocturnal sharks, rays, and grouper awaken.
'Aquarium by Twilight' takes you on an exclusive guided tour to witness this remarkable transition as day slides into sunset.

Inclusions:
Exclusive after-hours entry to Cairns Aquarium
Two-hour guided twilight tour through 11 tropical ecosystems, from the mountains,to the Great Barrier Reef, to the Coral Sea.
Learn how animals' behaviours adapt from day into night in the Wet Tropics
Come face to face with the Coral Sea?s largest night time predators; sharks, rays, groupers, and more!
If you wish for your infant to have a meal you will need to book a child fare.

Aquarium by Twilight Tour & Three-Course Dinner at Dundee's:
Arrival Time Twilight Tour 3 Course Dinner at Dundee's:
Session 1: 3.00pm 3.15pm 5.15pm to 6.30pm
Session 2: 3.15pm 3.30pm 5.30pm to 6.45pm
* Please advise your preferred session in the booking notes.
Hours of Operation:
Open 365 days a year. 10am-3pm Last Admission 2pm.
Need Help With Your Booking?
Our Cairns Office is open again in 3 hours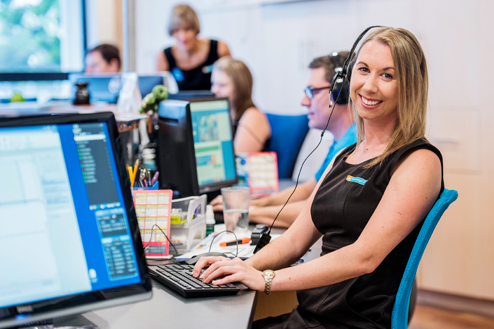 About Travstar Booking Requests
There are some things a computer can't do.
We love helping people plan their holidays and we want to make sure we get it right.
Some holiday packages can be quite complicated with multiple tours and accommodation, pick-up times and extras.
That's why every booking made through a Travstar Website is checked by our local consultants.
It takes a little bit longer to get your tickets but we want to make sure everything is going to run smoothly for you.
How long wil it take to get my tickets?
Our team are alerted to new booking requests as they come in. During office hours you can expect to have your tickets within an hour or two.
After office hours your tickets may take up to 12 hours to arrive.