Lady Douglas River Cruise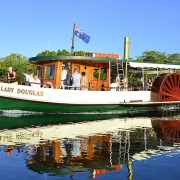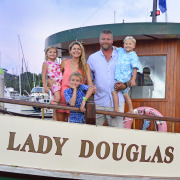 Lady Douglas River Cruise
Morning, Afternoon & Sunset - Cruise Port Douglas
Crocodile & Wildlife Spotting
Free Drink & Nibbles
FROM enquire PER PERSON
---
Inc. all levies & taxes

Lady Douglas River Cruise Info
Lady Douglas cruises Dickson Inlet

Search for crocodiles on an idyllic calm water river cruise through the mangrove wetlands near to Port Douglas.
Daily Cruise Times
Morning Monday to Friday 10.30 - 12.00

Saturday & Sunday 14.30 - 16.00

Sunset Daily 16.30 - 18.00
Kids get a complimentary crocodile activity sheet and a drive of the boat!
About the Cruise
Lady Douglas Riverboat has been taking Port Douglas visitors on tours of the Dickson Inlet since 1989.
The River Cruise is a 1 1/2 hr scenic and relaxing cruise up the Inlet, departing right in the heart of Port Douglas. It is all calm water and totally undercover. Spot wildlife including salt water crocodiles in their natural habitat
Everyone receives a complimentary drink and nibbles.

Lady Douglas is voted one of the most fun and best value tours in Port Douglas for over 25 years.
On board we have comfortable seating, a licensed bar and galley, toilets, and room to stand and move around during your cruise. She is an ideal nature viewing platform with protection from the elements. She has wheelchair and buggy access and is suitable for supervised children of all ages.
Cruises depart from the main marina in the heart of Port Douglas, just a short walk from most accommodation.
Operators
Each cruise includes both an exploration far up Dickson Inlet and a cruise to the inlet entrance. An entertaining commentary covers mangroves, crocodiles and local history.
Cruises depart from the main marina in the heart of Port Douglas
How to Get to Lady Douglas
Lady Douglas berths in the main marina (Port Douglas Marina) in the heart of Port Douglas, a very short walk from Macrossan Street.
Wildlife & Scenery
Lady Douglas travels several kilometers through the unspoilt mangrove channels of Dickson Inlet where you can experience and learn about the fascinating estuarine habitat.
Crocodiles are normally seen on over 90% of trips, especially in the dry season. There are also likely wildlife sightings of sea eagles, kites, ospreys, kingfishers, herons and waders.
Each river trip passes the scenic Port Douglas waterfront and harbour with stunning coastal views of the rainforest clad mountains. On sunset trips we spend more time here to enjoy the sunset views.
On all cruises there is a variety of things to see, taking in the wilderness and scenery of the mangroves, and the coastal and harbour views around the inlet entrance.
The mangrove ecosystem is fascinating and the views of the coastal mountains provide a great backdrop.
Saltwater crocodiles are normally seen on over 90% of cruises, particularly in the dry season. They tend to be solitary and territorial. Although the population density is low we have good success at finding them as we know their territories and favourite locations.
We very regularly see birds of prey such as brahminy kites, ospreys and white bellied sea eagles. Other birds such as mangrove herons, whimbrels, rainbow bee-eaters, sunbirds and kingfishers are normally seen.
Whilst staying in calm water each cruise also passes along the harbour and waterfront for great coastal views. There is also an interesting mixture of boats and harbour activity.
Because Lady Douglas operates from the marina in the heart of Port Douglas she is particularly convenient for those without a car or visitors looking for a short duration inexpensive tour.
Dickson Inlet is a fantastic asset to Port Douglas and the mangrove flora we see is characteristic of estuarine areas in Far North Queensland. For those with a car we encourage an additional visit to the Daintree River about 1 hours drive north.
In the upstream reaches there is more freshwater influence and the areas are quite different.
Dickson Inlet and Packers Creek
Dickson Inlet is listed as an Estuarine Conservation Zone of the Great Barrier Reef Coast Marine Park and an Area of State Significance.
This means that within just a few hundred meters of Port Douglas?s harbour we enter an area of beautiful un spoilt meandering mangrove channels which are the home to saltwater crocodiles and estuarine birdlife.
The inlet is salty and is dominated by red mangroves and other salt tolerant vegetation. It is a good example of the habitat which is found along much of the coast in far north Australia.
Guest Reviews
Great way to cruise the Port Douglas inlet
Posted By Amanda Lynn
Make this your first outing
Make this your first outing and Lucas will give you the drum on what's hot and what's not in Port Douglas.
Posted By Adrian Read
Great value
3 of us had a wonerful time time on this river cruise,
Great value, a drink to start with, nibbles and fruit
Very good commentry we had a great time on the river cruise in Port Douglas
Posted By Helen Levy
Lady Douglas River Cruise Rates
Need Help With Your Booking?
Our Cairns Office is open again in 5 hours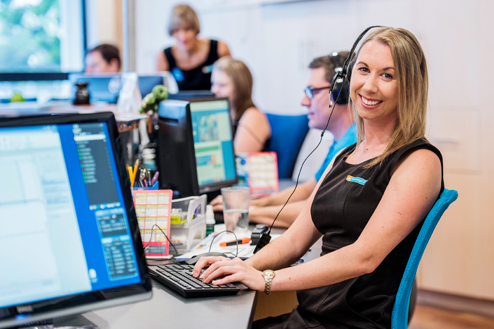 About Travstar Booking Requests
There are some things a computer can't do.
We love helping people plan their holidays and we want to make sure we get it right.
Some holiday packages can be quite complicated with multiple tours and accommodation, pick-up times and extras.
That's why every booking made through a Travstar Website is checked by our local consultants.
It takes a little bit longer to get your tickets but we want to make sure everything is going to run smoothly for you.
How long wil it take to get my tickets?
Our team are alerted to new booking requests as they come in. During office hours you can expect to have your tickets within an hour or two.
After office hours your tickets may take up to 12 hours to arrive.