Mike Ball 7 night Coral Sea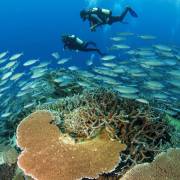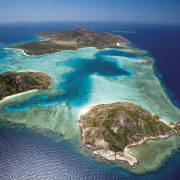 Mike Ball 7 night Coral Sea
Coral Sea Safari
Ribbon Reefs | Cod Hole | Coral Sea
26 Dives - Novice to Advanced divers
FROM enquire PER PERSON
---
Inc. all levies & taxes

Mike Ball 7 night Coral Sea Info
Mike Ball 7 Night Coral Safari combines the 4 night Fly Dive Coral Sea and 3 night Fly Dive Cod Hole itineraries. The 450 mile Coral Sea Safari includes some of the best dive sites on Australia's Great Barrier and Coral Sea.
Duration: 7 Nights / 6 Days
Departs: Thursday 6pm, Cairns Trinity Wharf.
Returns: Thursday 8am, Cairns Trinity Wharf, complimentary transfers to inner city hotels.
---
Dive the Ribbon Reefs including the Acropolis and Cod Hole plus Osprey Reef in the Coral Sea.
Details: All diving is conducted 100 miles north of Cooktown at the sites most likely to encounter big fish action, grey reef sharks, silvertip sharks and hammerheads as well as manta rays and minke whales (June/July). You begin by swimming with diver size fish at the world famous Cod Hole. Overnight you venture out to the crystal clear waters and plummeting walls in the Coral Sea. Witness the exciting shark feed, you can photograph these sleek high order predators at close-range or not so close! The second half of this expedition is within the sheltered waters of the Great Barrier Reef. Includes the amazing Acropolis. Here, you see the best concentrations of pristine corals, colourful tropical fish and rare critters.

Summary: Best Adventure & Biodiversity. 26 Dives.
Diving Experience: Novice to Advanced Divers.
---
Itinerary:
Thursday: Check-in and Departure
7:00pm Cruise overnight to the magnificent Ribbon Reefs, the first stop on your 700km dive odyssey
Friday: Ribbon Reef #9 - Pixie Gardens, Cod Hole

Buddy up with diver size fish that dive with you at the Cod Hole!
Swim with giant potato cod, napoleon wrasse and moray eels
Night dive where decorator crabs, egg cowry shells, moray eels and crayfish are just a few of the creatures you can find
Saturday & Sunday: Coral Sea - Osprey Reef
Cruise 100 miles overnight to Osprey Reef in the Coral Sea
Enjoy 40 meter (132ft) visibility with spectacular walls disappearing to 1000metres
At North Horn swim with giant potato cod, napoleon wrasse, moray eels, tuna and barracuda
Witness the resident shark population including grey whalers, whitetip reef sharks, silvertips and hammerheads
Find the caves, overhangs and spectacular walls adorned with huge soft coral trees and gorgonian fans
Night dive
Monday: Lizard Island & Ribbon Reef #10 & #9 – Cod Wall, Cod Hole, Challenger Bay
Climb "Cook's Look" at Lizard Island where Captain Cook searched for safe passage through the reef.
Explore the rarely dived Cod Wall at the outer reef edge that disappears into 60 meters (200ft).
Shallow but fantastic, Challenger Bay is extremely rich in biodiversity from spectacular coral gardens and unusual critters through to large schooling fish. Great night dive location… watch out for Baza the Barra!
Tuesday: Ribbon Reef #9, #5, #4 - Lighthouse Bommie, Pixie Pinnacle, Andy's Postcard, Clam Beds, Vertical Gardens
Circumnavigate Pixie Pinnacle and Lighthouse Bommie shrouded in fusilier baitfish.
Rising from 80 meters the pinnacle of Andy's Postcard is encrusted in had corals, lion fish, nudibranchs, octopus, schooling trevally and barracuda.
Night dive.
Wednesday: Ribbon Reef #3 - Flare Point, Joani's Joy, Steve's Bommie
Spiral majestic coral pinnacles teeming with diverse marine life.
See huge schools of baitfish stalked by barracuda, mackerel and trevally.
Anticipate spectacular coral gardens, spotted rays, reef sharks and green turtle sightings.
Thursday: Dock back into Cairns
Early morning docking at Trinity Wharf - Cairns, breakfast, 8:00am courtesy transfers to Cairns city hotels.
---
Prime dives sites - GUARANTEED!
Spoilsport's outstanding stability minimizes disruption to your itinerary and your scuba diving experience. If weather forces an itinerary change we divert to the best, 'safe, accessible sites' to ensure you get the best scuba diving available.


---
ACCOMMODATION OPTIONS:
Premium Cabin: Double or Queen bed, private bathroom and ocean views

Standard Cabin: Two single beds, private bathroom and ocean views (mid vessel)

Club Cabin: Two single bunk beds, private bathroom (mid vessel, less motion)

Budget Cabin: Two single bunk beds, shared bathroom facilities (front of vessel)
---
INCLUSIONS:
Low level flight to Cairns

Dives at Ribbon Reefs, Cod Hole & Coral Sea

Accommodation

Tanks and weight belts

Sheets, towels and linens

Complimentary soft drinks

Three meals daily, plus snacks

Aussie BBQ and party night

Transfer only to your accommodation in Cairns City
---
All Gear Hire includes: (extra cost)
Reg, Ocy, Gauges
BCD
Computer
Snorkel Gear
Light/Torch/Cyalume
Wetsuit
Safety Sausage (SMB)
New (1 year old) BCD's and regulators are supplied to guests in Premium and Standard cabins who rent equipment.
---
PLEASE NOTE:
Flying After Diving - the surface interval between the last dive completed at 5pm and flying at 9.30am is 16.5 hours, which exceeds the DAN minimum requirement of 12 hours. An additional safety feature is that Skytrans flys below 1000ft, weather permitting.

Depth guidelines are based on the diver's experience and industry standards. The maximum recommended depth for divers with appropriate experience is 40 metres (132ft). Dives in excess of 40 metres (132ft) to a maximum of 50 metres (165ft) can only be undertaken by divers with a minimum experience of 100 dives with 25 deeper than 30 metres (100ft) including one to a depth within 3 metres of dive being undertaken.

Luggage: 25kg / 55lbs, max weight of any bag. On Fly/Dive itineraries: 25kg / 55lbs, allowance per person plus 3kg / 5.5lbs carry-on allowance, OR 10kg / 22lbs - for professional photo / video housed system. You can leave items in excess at Mike Ball office.

All itinerary details are subject to change, specific marine life cannot be guaranteed.

GREAT NEWS! All payments made to Travstar do not incur a credit card surcharge.
Mike Ball 7 night Coral Sea Rates
Need Help With Your Booking?
Our Cairns Office is open again in 2 hours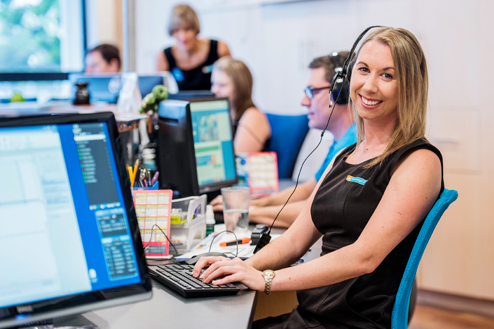 About Travstar Booking Requests
There are some things a computer can't do.
We love helping people plan their holidays and we want to make sure we get it right.
Some holiday packages can be quite complicated with multiple tours and accommodation, pick-up times and extras.
That's why every booking made through a Travstar Website is checked by our local consultants.
It takes a little bit longer to get your tickets but we want to make sure everything is going to run smoothly for you.
How long wil it take to get my tickets?
Our team are alerted to new booking requests as they come in. During office hours you can expect to have your tickets within an hour or two.
After office hours your tickets may take up to 12 hours to arrive.