INSTANT BOOKING OPTIONS
Kuranda Train & Skyrail Info
Visit the beautiful Village of Kuranda, nestled amongst pristine World Heritage Listed Rainforest. Choose between Train up and Skyrail down or Skyrail up and Train Down.
Train Up Skyrail Down
This is the most popular option. Having the sun behind you for the Skyrail journey down in the afternoon gives you a great view over Cairns, out to Green Island and the Great Barrie Reef.
09:00 Cairns City Hotel pick up
09:30 Train departs from Cairns Central Station to go to Kuranda
11:30 Arrive Kuranda - customer will have about 2.5 hours free time in Kuranda
13:45 Depart from Kuranda by taking Skyrail Rainforest Cableway
15:30 Pick up customer at Smithfield station (bus may stop here for 15 minutes)
16:00 Cairns City Hotel drop off
Skyrail Up Train Down
Travelling down to Cairns on the train gives you the option of finishing at Carins Central Station in Cairns CBD.
It can also be a more pleasant journey as the train engine doesn't need to work as hard coming down the hill.
10:00 Pick up from Cairns (Depends which hotel)
10:45 Departs from Skyrail Smith field Station, head to Skyrail Station
12:15 Arrive Kuranda, customer will have free time in Kuranda
15:30 Depart from Kuranda by taking Kuranda Scenic Rail (Train)
17:25 Pick up customer at Cairns Central station
17:40 Drop off customer back to hotels
Guest Reviews
Travstar made the booking and transfers a breeze.
Posted By Peter
Worth the experience
It was worth the experience
Posted By Thrupthi Nonabur
Our driver was absolutely wonderful
Our driver was absolutely wonderful. He was friendly, prompt, gave us tons of good info. A big thank you to our driver and I really wished I had remembered to get Australian dollars prior to the tour so I could have tipped him!
Posted By Sarah Smith
Great view
The train ride up was a little hot and squishy, but definitely a great view as long as you get the window seat. The skyrail back was also stunning, but we would have loved the option the upgrade to the glass bottom cable car.
Posted By Kaitlyn Hare
would recommend it to anyone visiting Cairns
Was a very good day and would recommend it to anyone visiting Cairns
Posted By Mark McAllister
Easy and relaxing
Transfer to and from attraction made the day easy and relaxing
Posted By Stephen Jackson
Loved the sky rail
Great day. Loved the sky rail.
Posted By Barbara Lerm
What a great way to see our beautiful country
Great day, the experience says it all. What a great way to see our beautiful country. Initially I thought the train ride would be too long but there was always something to see. Very happy with our experience. And the local pub food was absolutely delicious and super quick service.
Posted By Rachel Schembri
We had a great time
We had a great time. There was plenty to see. Transport for everything was fantastic & very comfortable. Would highly recommend your company.
Thank you for making our holiday great.
Posted By Raymond Johnson
I was thankful I booked the train in advance
I was thankful I booked the Train in advance, was great to skip the long queue at the station.
Allocated time at Kuranda was just not long enough, so we had to forfeit our transfer and pay extra for an uber as a later pick-up was not offered.
Posted By Chrissie McAllan
Great trip
Great trip. The bus driver (forgot the name) was knowledgeable and helpful. Thank you
Posted By Colin
Well run operation
Well run operation
Posted By Geoff Sanders
Picked up on time the driver was very nice
We were picked up on time the driver was very nice and on the way back gave us some interesting facts about the area
Posted By Vanessa Jamieson
Great experience
Great experience and looked after well.
Posted By GORAN Obradovic
Absolutely lovely day.
My partner and I had an amazing day. Weather was fine, train trip was fine, Skyrail was fine. An absolutely lovely day.
Posted By Ronald Schulz
Day in the rainforest
We had a great day in Kuranda. The Train and Skyrail are a"must do" for a reason. We had a fantastic day.
Posted By Jay Black
Need Help With Your Booking?
Our Cairns Office is open again in 3 hours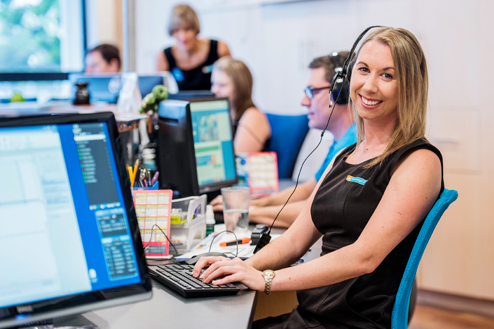 About Travstar Booking Requests
There are some things a computer can't do.
We love helping people plan their holidays and we want to make sure we get it right.
Some holiday packages can be quite complicated with multiple tours and accommodation, pick-up times and extras.
That's why every booking made through a Travstar Website is checked by our local consultants.
It takes a little bit longer to get your tickets but we want to make sure everything is going to run smoothly for you.
How long wil it take to get my tickets?
Our team are alerted to new booking requests as they come in. During office hours you can expect to have your tickets within an hour or two.
After office hours your tickets may take up to 12 hours to arrive.