Super Triple Challenge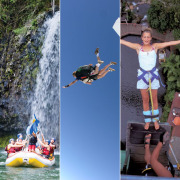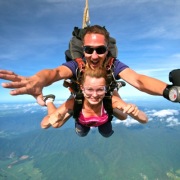 Super Triple Challenge
Tully Raft-Bungy-Skydive
Tully Rafting | Bungy
14,000ft Skydive 60sec freefall
FROM $663 PER PERSON
---
Inc. all levies & taxes

Super Triple Challenge Info
Super Triple Challenge
For the complete adrenalin junkie, we have the package for you!! Over 2 days you will complete three of the most thrill seeking adventure sports on offer...
Tully River Full Day Rafting with BBQ lunch beside the river
14,000 ft Cairns Tandem Skydive 60 sec freefall
50m Tower Bungy with A.J. Hackett plus souvenir t-shirt
Day One - Tully River Rafting

Departs Daily from Cairns 7am and returning approx 6.30pm

The first day is spent tackling the Tully River. Voted No#1 rafting tour, it provides more than enough excitement to satisfy your thirst for adventure! Departing daily, travelling to the upper gorge of the Tully river in our air-conditioned, video equipped coach. The rescue 3 trained guides will offer you all tuition needed to enjoy your 5 hours of white water rafting.

Day Two - Bungy + Skydive

The next day you will jump out of a plane and jump off a 50m metre bungy tower all in one day!!

Bungy Departs Daily from Cairns 9am, 11am, 1pm & 3pm

Set in lush tropical rainforest, the 50m AJ Hackett Smithfield Bungy Tower (20 minutes north of Cairns) is still the most dramatic place in the world to experience the thrills of Bungy Jumping.
AJ Hackett's unique jump menu offers 16 different ways of jumping and will take you right outside of your comfort zone.
Photo and DVD available for purchase.
Facilities at the site include a licensed Gravity Bar, spacious viewing decks and modern amenities.
Skydive Departs Daily from Cairns at your choice of 7.30am / 9.00am / 12.30pm or 2.00pm
Next partake in the biggest adrenalin pumping thrill of a lifetime with Australia's largest tandem skydive company. Views of Cairns, the Great Barrier Reef and rainforest from 14,000ft will leave you speechless!!!
INCLUDES:

RAFTING
Accommodation transfers
Approx 5 hours of white water rafting
BBQ Lunch by the river
Rescue 3 trained guides - All Tuition / no experience neccessary
$30 Tully Rafting levy covers insurance charges, land management agency prescribed daily client fee, water release fees, transfer costs, GST and administration charges
BUNGY
Accommodation transfers
Bungy Jump from 50 metre tower
Souvenir T-Shirt
$10 Bungy surcharge to defray the cost of public liability insurance & risk management for Bungy
SKYDIVE
Adrenalin pumping 14,000ft skydive jump
First jump certificate
Accommodation transfers
$35 Australian Parachute Federation Membership levy
Additional Information
Minimum age: 14 years
This package is not suitable for anyone who is pregnant
Upgrade to Xtreme Tully Rafting
• Guaranteed small groups max 18 people (3 rafts)rafting faster & further, with fewer delays
• Highly experienced senior guides who will take you on a more thrilling path through the rapids
• Extra challenges such as rock jumping, rapid swimming and raft surfing
• Typically the first trip on the river each day ensuring the most intimate experience with the World Heritage Rainforest
• Must be pre-booked
• All Xtreme rafters must be confident swimmers and have good English skills
• Minimum age 15 years, rafters aged 15-17 years must be accompanied by an adult